Thanks for Stopping by the Hot Summer Nights Blog Hop by Books to Go Now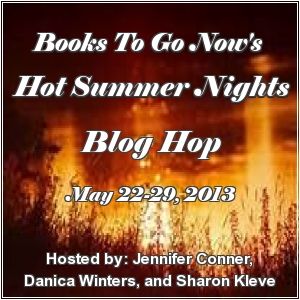 I'LL BE SEEING YOU THROUGH TIME
BOOK 2 THE DIMENSION KEEPERS SERIES
It's 1942 and the world is at war. It's difficult, but engaged couple, Jewel and Glenn, know they must say goodbye. Tomorrow, Glenn is shipping out on to the South Pacific. That is until he stops the Second Chance Bookstore on the way back to the base.
Suddenly, Glenn finds himself in 2013 with the woman he loves a half-century away.
Can the Dimension Keepers find an answer, or will
Glenn and Jewel be ripped apart by the fabric of time forever?
My story is based on my mother who was engaged to a soldier killed in a WWII battle. I'm giving them their happy ending.
Love can transcend time.
What is your favorite era in time to have
the stories you read based in?
Contemporary, Victorian, Regency, Ancient, any or all?
Leave your answer below for a chance to win
this time-travel pocket watch
or other great prizes!
Go to the next Blog Hop Stop CLICK BELOW
And thanks for stopping by!